Legacy Wealth Management
Legacy Wealth Management's mission is to help you build a better legacy. Our primary area of expertise is wealth management.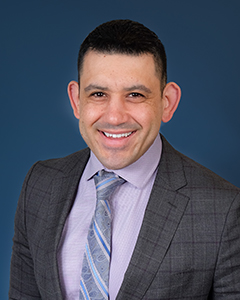 Jay Sharifi
Founder, President, and Investment Advisor
For over 17 years, Jay has helped families in Richmond and across the Tidewater region and Northern Virginia develop comprehensive, creative retirement income strategies using investment and insurance products and services. His goal is to create financial strategies for clients' lifetimes that capitalize on their unique opportunities while working around challenges.
Long a believer that ongoing education leads to improved performance, Jay applies advanced techniques gained while earning his Georgetown University Financial Planning certificate. His method is first to uncover and clarify specific goals. Then, he designs a custom strategy to help pursue them. He assists in implementing and overseeing that strategy, monitoring performance and adjusting it when needed. His holistic planning strategy has helped set him apart in his line of work.
A resident of Arlington, Virginia, Jay is also an active member of the communities in which he lives and works. For seven years, he has been an advocate of Cole's Closet, a nonprofit organization assisting families with children who suffer from critical, chronic or terminal diseases. He is also a supporter of Medical Missionaries, a Manassas-based volunteer group of more than 200 doctors, nurses, dentists and other medical professionals improving the health conditions of people living in poverty in the U.S. and abroad. Jay enjoys traveling and has also been on multiple church-directed missionary trips to different countries around the world.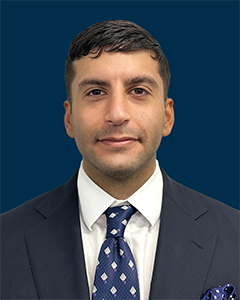 Omar Barakat
Associate Financial Advisor
Omar is a motivated professional with a steadfast commitment to guiding clients through their financial journey. Always optimistic, Omar finds great satisfaction in being a trusted contact for clients, helping them navigate the uncertainties of retirement, challenging financial decisions and unexpected life events. He emphasizes the importance of planning, believing that once the hard decisions are made upfront, subsequent financial decisions become significantly easier over time.
Prior to joining Legacy Wealth Management, Omar held pivotal roles as a Wealth Manager at Merrill Lynch and as a VP Financial Consultant at Charles Schwab, gaining experience and an understanding of the financial sector. Omar is a proud alumnus of VCU, where he pursued finance and economics, earning a B.S. in economics. His inspiration to join this industry stemmed from the financial challenges he saw his own family face. He realized that many American families take on similar issues, and he decided to use his skills and education to help them overcome these challenges. Every day with our clients, Omar works to simplify complex economic concepts and financial metrics, making them easily understandable for individuals and families.
Born and raised in Falls Church, Virginia, Omar shares a close bond with his parents and older sister, who have always been his pillars of support. He also cherishes his terrier, Skylar (Skye), who brings joy to his life every single day. Outside the office, Omar indulges in a variety of hobbies and interests. He learns about other businesses, enjoys trying new foods and restaurants, loves traveling to new places, and maintains an active lifestyle by playing soccer, volleyball, pickleball and more.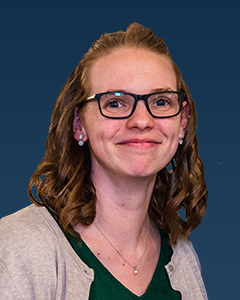 Kaycee N. Sirstins
Quality Assurance Coordinator
In her role as Quality Assurance Coordinator, Kaycee updates and creates processes in the office, assists with training new hires, finds ways to better serve clients, makes updates to CRM, and lends a hand where needed. She holds life, health and annuities licenses in Virginia.
Kaycee received her bachelor's degree in social work from Brigham Young University-Idaho and then entered a career in early childhood education as a preschool teacher. When she felt she couldn't grow professionally in her position anymore, she went looking for a new direction. She discovered the foundation of the financial field had similarities to the education field: helping others prepare for their futures. She joined Legacy Wealth Management in 2017.
Away from the office, Kaycee can often be found crafting home décor, sewing, reading and spending time with her husband and their many nieces and nephews. She grew up in the Washington, D.C., area with five siblings and now lives with her husband, David, and son, Levi, in Warrenton, Virginia.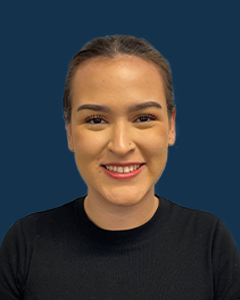 Carmen Rivera
Client Service Specialist
Carmen's love for helping others initially led her to the medical field. Realizing it was not her calling, she switched industries and now focuses on assisting clients on their retirement journey. She is responsible for helping clients with reports, reviewing applications, maintaining communication and preparing for appointments.
Before joining Legacy Wealth Management, Carmen worked as an insurance agent and in banking. She holds property and casualty licenses and takes pride in helping protect clients' assets.
"We are here to help and genuinely want what is best for you," she says.
Born in Honduras, Carmen and her family moved to the U.S. when she was four. She has lived in Virginia ever since. Outside of work, she enjoys going to the gym, taking her puppy, Leo, to explore new trails, trying new restaurants and exploring different food.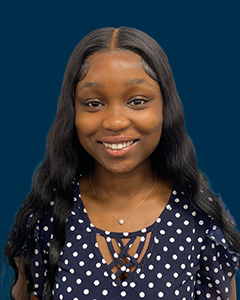 Irish Adonteng
Relationship Coordinator
"Not every day is perfect, but make every day worth it."
Irish shares her favorite words of advice with as many people as she can and will be a familiar voice during your visits to the office. A welcome addition to the Legacy Wealth Management team, Irish graduated in 2022 from Marymount University with a bachelor's degree in business administration with a concentration in finance. She answers your phone calls, manages the team calendar and assists in Legacy Wealth Management's marketing.
Irish is the youngest of five children to parents married over 40 years. She lives in Woodbridge and enjoys family time, shopping and searching for her next family member: a cockapoo.
Schedule a Meeting
To schedule a time to discuss your financial future and the possible role of investments and insurance in your financial strategy, contact us at info@lwealthmanagement.com or call us at 877-650-4738 today!
Have Questions for Legacy Wealth Management?
It can be difficult to make financial decisions without access to information. If you have questions or concerns about your current retirement strategy, feel free to contact us using the form below.